A look back at 2022 and here's to 2023
Happy New Year!
As we step into a bright New Year and bid a fond farewell to the old, it seems an apt time to reflect on some of our highlights of 2022.
If our paths haven't crossed before, I'm Katharine, a journalist for more than 20 years in newspaper media, whilst my husband Lyndon has 30 years of experience within IT in the UK media industry.
As a media services business we're here to help you with your social media and website needs, as well as offering writing support to help tell your story and get your message out to the people that matter, content creation, campaign news stories, press relations and ghost writing.
Having launched our business just weeks before the Covid-19 pandemic hit, 2022 felt like our first full year of being in business and returning to face-to-face networking. It has had its challenges and has been a learning curve but we've surrounded ourselves with mentors and other small businesses on the same journey.
We hit the ground running and were back in the office for the first week of January planning the year ahead with our clients.
My first networking session of the year was as a member of Awaken Women Entrepreneurs network with Beverley Jones, an award-winning businesswoman, author, speaker, mentor and burn-out coach. I can highly recommend joining this group, where you can find support, motivation and encouragement as well as building relationships with other members.
February began with a small win. It's always encouraging to see your content being well-received and for just two of our posts reached just over 90k people organically.
The first post reached nearly 62k people with an engagement from 6486 people -roughly a 10 percent engagement rate. The second, reached over 28k people with 6086 engagements which is an engagement rate of 21.39 percent.
We are so lucky to live and work in the beautiful Monmouthshire countryside in South-East Wales and one of the joys of running our own business is that we get the opportunity to get out and about and meet our clients on-site.
We had a really productive planning meeting with our client Cefn Tilla Court- an exclusive wedding venue in the heart of the country and enjoyed seeing the spring flowers around the historic estate.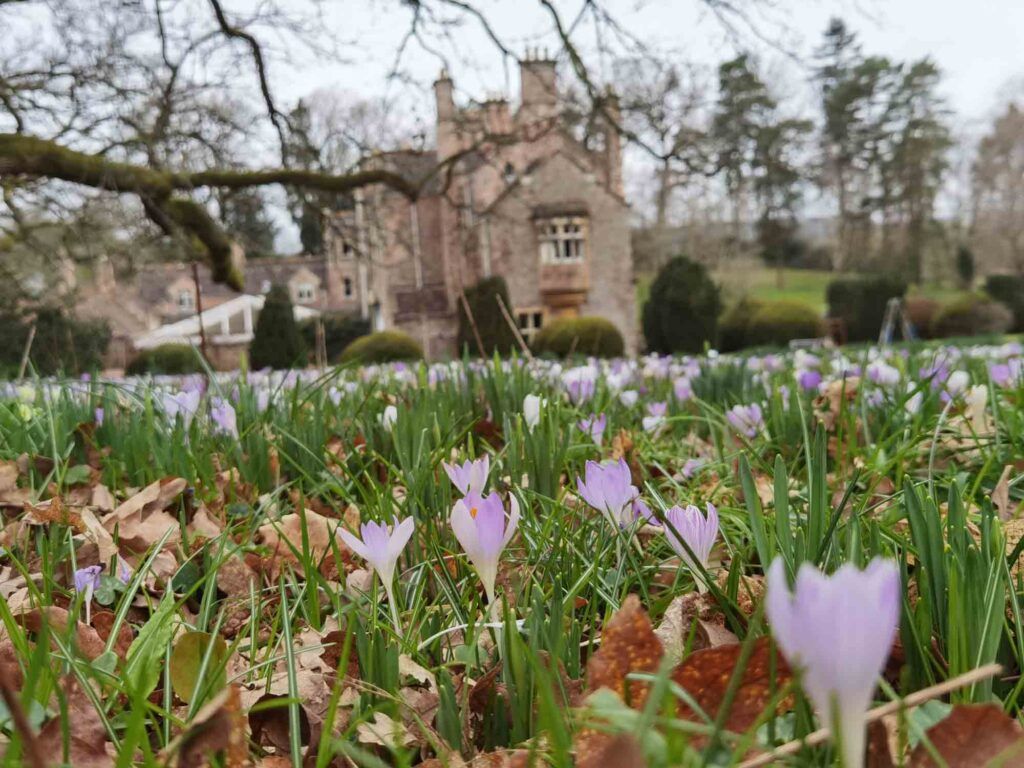 April
'A man who went to bed and woke up paralysed from the waist down is set to take on the world's highest mountain next week.'
The highlight of the month and the year, for me, was interviewing Jamie McAnsh, a multi-award winner and disability champion, whom I now consider a friend. Jamie graciously agreed to be interviewed for a feature ahead of his attempt to reach Everest Base Camp South, using specialist crutches, fulfilling a childhood dream.
His story is one of determination, inspiration and dedication. As a writer who has always been fascinated by life stories and passionate about the many I have been lucky enough to document over the years, this was a real joy and privilege to write.
With my dictaphone as a back-up, notebook and pen, Jamie shared his journey of overcoming immense personal adversity, the numerous struggles and challenges he has faced and why he wanted to take on Everest.
One man's story of getting back up to fight after life's many attempts to keep him down was just the beginning of this story which received regional and national coverage in print and TV media.
Just weeks later I was overcome with emotion to see a social media post from Jamie, Charlott and their team, sharing the news that they had achieved the goal and made it to Base Camp. A follow-up feature followed with Jamie sending us a video message from Nepal to share on our social media channels. You can read the articles by following the link.
---
In May, we were given the opportunity to feature in 'Total Guide to Cardiff's' May Talk by Fiona Scott of Scott Media. The regular column offers business owners the opportunity to share what you do, talk about the year so far, what's coming up and to offer some money-saving tips or hacks. It's a fantastic opportunity and a great way to promote your business and for people to get to know a bit more about you.
---
June saw us share the story behind our brand name, which can help humanise your brand and communicate who you are, what you do and how you can help people. Follow the link to read our story here
---
We joined Torfaen Breakfast Networking, run by Beverley Jones, of Awaken Mentoring, and met a fantastic and supportive group of local small business owners. We had time for a fun team-building exercise at the end with Steve Marsh of The Balloon Experience as you can see in the photo.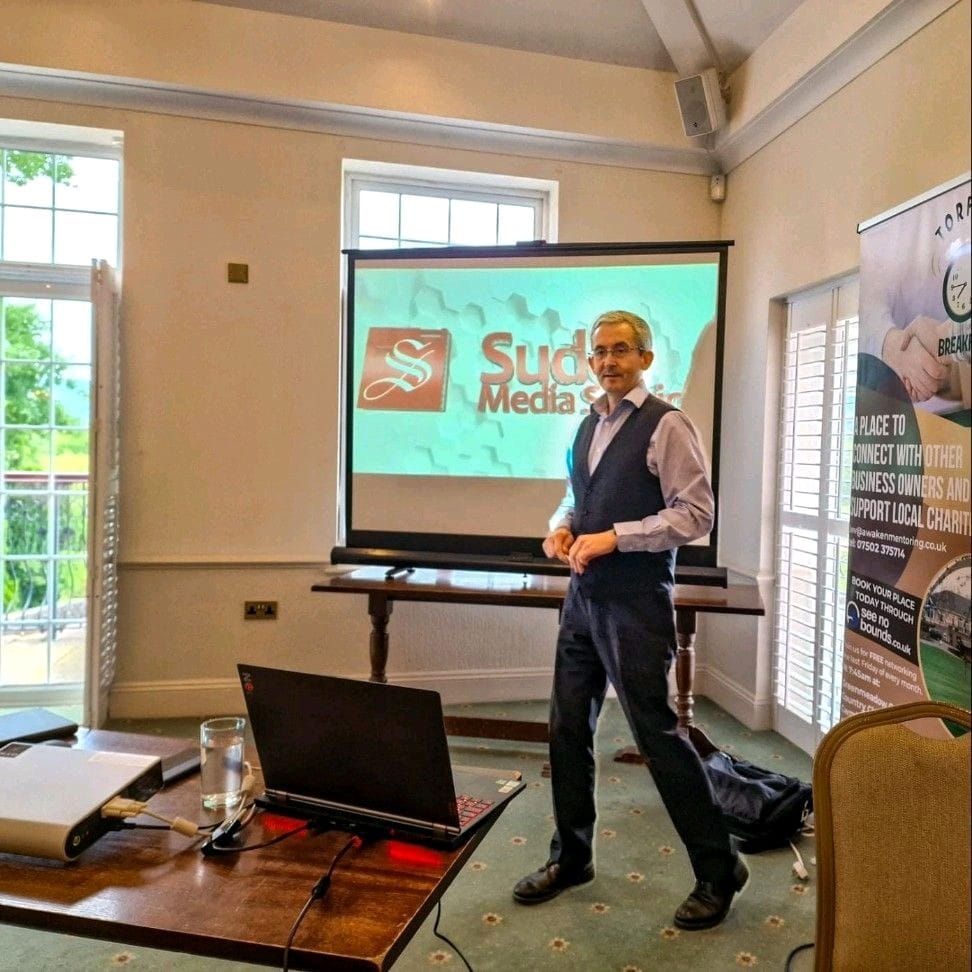 The summer proved to be just as busy for us…
We were lucky to have the opportunity to join Beverley at a special lunch in Newport to celebrate her 12 years in business with her family and many business connections and colleagues.
Bev's special guest and mentor, Mark Wright, a former winner of the BBC TV Series 'The Apprentice' was incredibly inspiring and gave us some invaluable golden nuggets of business advice to take away and was there to answer any questions.
We celebrated another win with a successful campaign for a client, who had given a former pub a new lease of life as a boutique hotel and bistro, following a £500,000 investment. We worked with the owner and a local catering company Pickled Pumpkin Catering in their joint venture to organise and oversee the launch event, arrange publicity shots with the-now Rt Hon David TC Davies MP for Monmouth, and secured coverage for our client in numerous regional news and business media outlets. It was an exciting and successful campaign to take on and complete.
---
September saw the publication of Amatsu therapist, Stephan Grabner's fascinating life story in the South Wales Argus newspaper, Free Press Series and Abergavenny Chronicle, accompanied by paid-for advertising online and inprint.
Stephan, of Abergavenny, born in the former East Germany, is well-known in market town for opening a wine cellar in the early 90s and as a business mentor for Business Wales. He changed career at 50 to become a successful Amatsu therapist and wanted to share his journey and experience.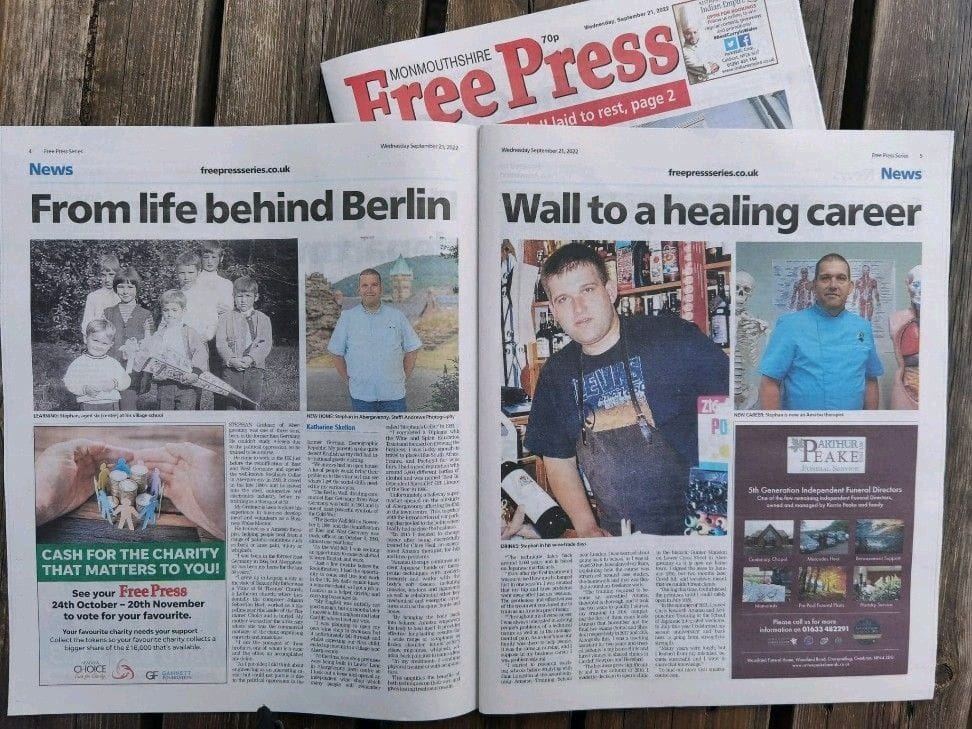 We also took part in our first live interview in a recording studio with Jamie and his wife Charlott McAnsh , who are co-founders of the online business Community which serves small businesses across the UK. Filmed at Black Lion Studios by Formosa Films, we had a great time discussing the importance of getting your message out there and how we can help you do that. Jamie and Charlott knew how nervous I was and guided us through the interview. The recording is due to be featured on the See No Bounds Youtube channel, which is dedicated to interviews with members of its community.
---
Each year we look forward to the Usk Show, one of the biggest one-day agricultural shows in the UK. The venue just happens to be a stones-throw from our client Cefn Tilla Court so we represent the wedding venue with a stand for the day. It's always a busy stand and we were inundated with requests by couples to book viewings and to find out more about holding their wedding there. Last year we were thrilled to accept 'First Place for Best Small non-Agricultural Trade Stand' on behalf of our client. Whilst we didn't win this year, taking part proved to be beneficial in securing further bookings for this year and next. (PIC)
---
October saw 'Dogs Today' Magazine feature Pooche Care owner, Alyson Lane feature in its monthly edition. Alyson contacted me as she wanted to find a way to tell the story behind her business and warn pet owners to make sure home borders are licensed before leaving your dogs with them. I facilitated that important coverage as part of a three-page article in the UK's number one dog magazine.
---
"It's time to find my own wings and fly".
Maureen Lewis, 73, is the oldest verified national finalist in the Ms Great Britain Classic pageant.
The grandmother-of-six was flying the flag for older woman and wanted to show that life isn't over after 40.
She contacted me about gaining press coverage ahead of the event and feature with photo's from her family album followed. I was able to secure a double-page spread in a regional daily newspaper with photographs taken by Steffi Andrews Photography. She didn't win the pagaent, unfortunately, but is such an inspiration to women, especially those in later life.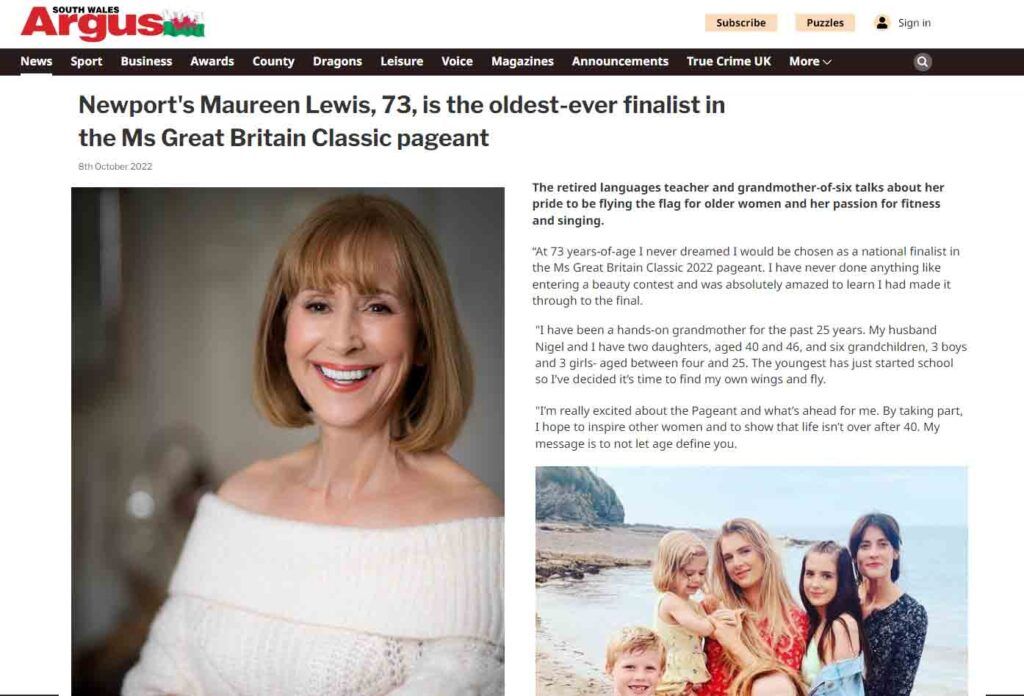 ---
Our November highlight has to be our visit to The Senedd in Cardiff Bay (Senedd Cymru on FB) with children's author Gavin Clifton and Clare Thomas, of Lola & co Publishing.
Gavin, who was born with cerebral palsy and is known as The Disabled Writer, achieved a life-long dream of becoming a published children's author during lockdown with his first book 'Max and the Magic Wish.'
Gavin is a former colleague from our time at the South Wales Argus, with whom we recently re-connected at a networking event. When told us of his ambition to have his inspirational book used as an educational resource in schools across Wales and show children with disabilities that is ok to be different, we knew we could help promote his work.
We arranged a meeting and tour of the Welsh Parliament with South-East Wales MS Laura Anne Jones where Gavin and Clare had a productive and positive discussion about inclusivity and accessibility for the disabled and getting his book into schools at a national level.
During our visit we also met the Welsh Education Minister, Jeremy Miles and the Leader of the Welsh Conservative Party, Andrew RT Davies, all of whom were incredibly supportive of Gavin's ambitions.
We were lucky enough to catch a glimpse of the Prince of Wales, who was there as part of a private visit.
There is much more to come from Gavin this year, including two new books! (PICS)
---
The last highlight of the year was having the privilege of interviewing the award-winning businesswoman and mentor Beverley Jones of Awaken Mentoring. I've mentioned her several times in this blog because she has been a great support, mentor and friend throughout the year.
I first met Beverley during my time as a journalist at the South Wales Argus 12 years ago, when she published her first book 'Made it thru the Rain to light the journey ahead' so it seemed fitting to put pen to paper and share her inspirational, honest and personal account.
In her inspirational feature, published in the South Wales Argus daily newspaper, she talks about burnout, her recovery, building a successful business and how she supports others using her wealth of experience.
---
We continued to build relationships and make new connections at events like the Business Show at The Excel and attended a fun networking event with a difference at a children's activity centre, organised by Mathew Morris-Parker of Roseblade Media Thanks to Roy Bell of EGNI Ninja Activity Centre for hosting us and letting Lyndon have a go on the equipment!
Of course, throughout the year we have also created and planned numerous Social Media posts across various channels for a varied collections of clients. No matter how much planning you do, there are always the occasional curveball that changes the course of your campaigns and throws them into disarray. The death of Her Majesty the Queen, meant that we needed to react quickly and appropriately to remove or amend scheduled posts that would have not been suitable during the time of mourning. That's the fun challenge of running media campaigns for clients – Something else going on in the World can suddenly turn your plans on it's head.
We have also spent a lot of time creating, hosting and supporting client websites, which is paying off with some new exciting clients early in 2023
---
And finally THANK YOU!
We would like to take this opportunity to say thank you to all those we have worked or connected with in 2022 and hope to continue building relationships and creating opportunities in 2023. To our networking community- thank you for your support, advice, mentoring and friendship and we look forward to the next 12 months.
Look out for our Spring newsletter which will be filled with tips, tools and engaging content.
AROUND 20,000 visitors flocked to the Abergavenny Food Festival to see culinary stars take to the stage as the event celebrated its 25th anniversary last month. The star-studded line-up saw some of the very best names in the industry- Andi Oliver, Angela Hartnett OBE, Jeremy Pang, Cyrus Todiwala OBE and Bake-off star Jurgen Krauss take to…