DOES RAGLAN HAVE THE BEST NATIVITY SCENE IN WALES?
RURAL BUS SHELTER DISPLAYS NATIVITY SCENE
Please credit Sudol Media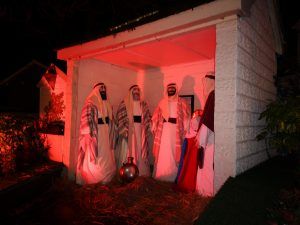 RESIDENTS in a sleepy Welsh village discovered their bus shelter has been transformed into a nativity scene tonight (SUN)
Worshipers coming out of a carol service at St Cadoc's Church and customers at The Beaufort in Raglan, Monmouthshire, were greeted by a life-size nativity display featuring mannequins dressed in costume, which mysteriously appeared in the shelter on high Street at around 6.30pm.
It is unclear who was behind the transformation but one customer said he thought it will bring joy to the community and help to promote the true meaning of Christmas.
"It is one of the most recognizable symbols of the festive season", said a local passerby.
"There was clearly no room at the inn, which is directly opposite," he added.