A MAN who went to bed and woke up paralysed to take on the world's highest mountain.
A MAN who went to bed and woke up paralysed from the waist down is preparing to take on the world's highest mountain.

Jamie McAnsh, 40, of Cwmbran, has had his sights set on climbing Mount Everest since he was seven years-old but an uncommon neurological condition eight years ago threatened to end his dream.
Determined not to be defeated, Mr McAnsh is preparing to fly to Nepal on Tuesday ahead of the gruelling challenge which will see him trek more than 5,000 metres to one of Mount Everest's Base Camps using specialised crutches, to fulfil his life-long ambition.

If the former Royal Engineer, of Cwmbran, reaches the South Base Camp which sits at an altitude of 5,364 metres, he will become one of a few disabled adventurers to do so.
Mr McAnsh and his wife Charlott (CORR) 49, have had their plans cancelled twice due to the Covid-19 pandemic, but are now more determined than ever to raise awareness of his little-known condition and raise funds for charity.
In January 2014, following a bout of shingles, his life was suddenly turned upside down.
"Eight years ago I went to bed and woke up paralysed from the waist down," explained Mr McAnsh who was a motorcycle salesman at the time.
"My life turned upside down overnight. I lost my job and felt like a burden on family and friends."
Doctors were initially stumped as to the cause of the horrendous pain in Mr McAnsh's back but after a number of tests he was eventually diagnosed with an uncommon neurological condition called Complex Regional Pain Syndrome (CRPS) The debilitating condition is characterised by constant and often severe pain and can be triggered by an injury or virus.

The former climber, avid runner and motorbike enthusiast, embarked on a long and gruelling recovery which has seen him gain some mobility but uses a wheelchair and relies on specialised crutches to help him walk.
Despite being in pain every day, and determined not to let his severe disability affect his ambitions, he found relief in sport and the outdoors. He joined the Cardiff Met Archers Wheelchair Basketball Club, was capped as international for Wales in Wheelchair rugby, discovered hand-cycling and became the first disabled squash player in the world to play in the Welsh Open tournament.
In 2015, Mr McAnsh set himself twelve extreme challenges in twelve months and raised £250,000 for charity. His challenges included jumping out of an aeroplane at 15,000 feet, handcycling from Cardiff to Tenby as a member of the South Wales Handcycle team in the 2015 Carten100, down-hill rough riding and a WAAT4 (Working As A Team For) 30k trek in the Brecon Beacons. It was during a challenge to climb South Wales' highest peak 'Pen y Fan' that his wheelchair buckled around 100 feet short of the summit.
But with the support of his team, who were taking part in the trek, he managed to reach the top and is believed to be the first person to complete the challenge in a wheelchair.

"I had a fantastic team around me who persevered as much as we could," he explained.
"I thought I was going to drop dead but I had reached the summit. It was a pretty special moment."
In 2016, following his extreme challenges he won a bravery award in the 'Against All Odds Category' at the Charles Holland Awards.
He is now a motivational speaker, adaptive athlete, multi-award- winner, TEDX speaker and entrepreneur.
Mr McAnsh now raises awareness about CRPS and gives motivational speeches at schools and events.
"During the past eight years, I have battled with my greatest enemy, my own mind, and with the help and support of those around me, remained strong."
Mr McAnsh was diagnosed with cancer in 2016 and moved in with his mum whilst he underwent treatment. Two weeks after moving in, his mother collapsed and was diagnosed with a brain tumour.
They both cared for one another whilst undergoing chemotherapy and are now in remission.
"In my talks I share stories of struggles, challenges and successes. I talk about adapting and overcoming adversity."
He has helped to inspire others to adopt a more positive approach to disability through mentoring and the launch of his online business community www.seenobounds.co.uk
The venture began life as a blog and a place to promote Mr McAnsh's challenges and events and has since evolved to become a platform for more than 2,500 small businesses across the UK.
His latest challenge represents a personal milestone for Mr McAnsh, whose motto is to always 'get back up'.
"I've wanted to climb Everest since I was seven years-old. When I first fell ill this dream seemed impossible."
"My physiotherapist asked me at the first ever session that I needed a goal. My reply was simply Everest. She smiled and said 'let's get you walking across the room first."
Charlott, a qualified massage therapist, has played a vital role in Mr McAnsh climbing Ben Nevis, Snowden and several other mountains as part of their training.
"As part of my illness I suffer with massive pains in my legs. As the neurological system starts to work hard I like most, start to get pain," said Mr McAnsh.
"For me, however, the pain is amplified and in comes Charlott. "I need massage and deep sports massage therapy is by far the best treatment. I am lucky that my wife is also my amazing massage therapist."
If he reaches his goal he is believed to be the first CRPS sufferer with lower body impairment in both legs to have achieved the feat.
"I'm nervous but confident and excited", said Mr McAnsh.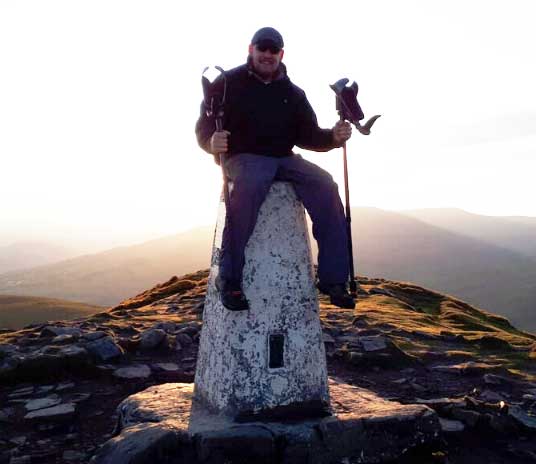 "What scares me the most is how my body will cope with the altitude. Oxygen levels affect the neurological system, and I'm starting off with a weakness in mine."
"Not trying is the biggest failure I can do," I want to show people what can be achieved if you don't give up."
"I want to show the world that if you put your mind to it and always get back up then nothing is out of reach," said Mr McAnsh.
The McAnshs' are part of a five-strong team that includes friend and former motorcycle coach and journalist Andy Ibbott, Nikola (CORR) Masters, who owns Osbourne Lodge Nursery in Pontypool and Tim Cochrane.
The couple initially raised more than £9,000 for CRPS awareness ahead of their first scheduled trek and are now raising funds for the Lions charity.
They aim to spend ten days walking to Base Camp and four days coming down.
The couple have set up a fundraising page ahead of their challenge supporting Newport and Usk Vale Lions.